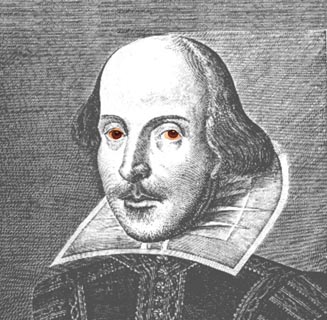 ** MOUSEOVER THE IMAGE **
See The Man Behind the Mask
Marlowe is the greatest discoverer, the most daring pioneer, in all our poetic literature. Before him there was no genuine English blank verse or tragedy. After his arrival, the way was prepared—the path made straight for Shakespeare.
The Case of the Murdered Bard
To all you Shakespeare fans, I dare to say
The Stratford actor never wrote a play,
No way. Kit Marley (known as "Marlowe") wrote
Four centuries ago the words we quote
From the collection called the Folio
Of Shakespeare Plays—and scores of sonnets. So
Listen up! The evidence makes clear:
Kit Marley used the pseudonym Shakespeare—
Which worked out well for Mr. Will Shakspere,
Whose name got him a sinecure and share
Of ticket sales at the Globe Theater door—
Although not knowing whom he stood-in for:
The greatest poet of his time for sure.
None stood above Kit in dramatic art;
On top of that, he played a secret part
In England's anti-Catholic war: a spy
Who gave good service to the Queen, no lie.
But his belief in Jesus Christ fell short,
According to a sland'rous, signed report
(A list of blasphemies Kit spoke in sport).
The hearsay was heresy—dangerous it read:
His mouth should be stopped (his words had
'street cred').
The upshot was a dagger in the head
Two inches deep, the Royal Inquest said.
But Marley's sudden end did not mean dead,
Because another head got stabbed instead—
That of a Welsh reformer with bad luck,
Into whose cadaver the blade stuck.

* Brief Life
* Sudden & fearful end
* Original Marlowe Lives! blog
* Marlovian Newsletter
* The 'Shakespeare' Hoax
* Organizations, Publications
With the recent closing of the Marlowe-Shakespeare Connection blog, the Marlowe Lives! Association is reviving its Marlovian blog under a trendy new name and look: WTF Shakespeare about Marlowe, the man and the myth.
The ML!A is also pleased and nonplussed to announce the Phoenix-like reappearance of John Baker's one-and-only School of Thought Emporium in all its rough-hewn unhinged glory. We're hoping to find a dozen or so articles for a chapbook titled Baker's Dozen: 13 Essays on the Marlowe-Shake-speare Connection.